JAPANESE LESSONS
We invite you to Japanese lessons at our center, where native speakers will become your teachers.
For those who want to learn the basics of the language: the Japanese alphabet (Katakana and Hiragana), the basics of kanji, the basics of grammar, reading, writing and audio, simple spoken language, we offer classes in an initial level group.
Individual lessons with Japanese tutors for adults and children over 5 years old are also available. You can start studying language from any level. For children we offer to study Japanese alphabet, simple colloquial speech in the form of games, the basics of grammar, reading and writing.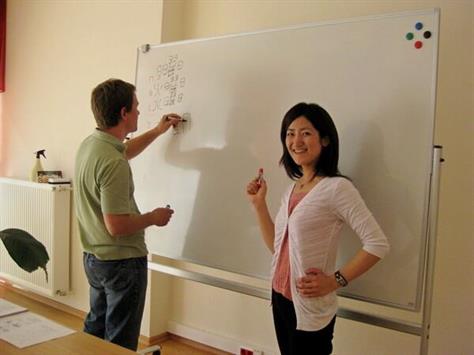 During their studies at the courses at the San Cultural Center, more than 50 students have successfully passed the Japanese language proficiency test!
The approach to each student is individual, and the teacher, depending on your load and ability to work with the material, will give you either more or less material, respectively, focusing on your pace and your interests.
Also, in Japanese language courses, teachers use the best techniques, use flashcards to memorize kanji (characters), various additional materials, advise the most convenient applications for learning languages, and gladly answer all your questions about language and culture. Who else, if not the representatives of the nation, can personally find out the answers to your questions!
Our teachers will not give you useless or little-used words and phrases, but depending on your goal - preparation for the test or speaking, they will focus on the most used and necessary expressions and vocabulary for your purpose. If a word or expression is little used, you will certainly be informed about it! All our teachers speak at least two languages, and they themselves have extensive experience in learning foreign languages. Constantly caring about the improvement of the result, the teachers will analyze and identify the best way to memorize the material in your case and will help you with practical advice.
Our teachers will do their best for your rapid growth and development of your language skills! We create the most flexible schedule with you. Try it and make sure that our teachers will become both good teachers and pleasant companions and friends for you!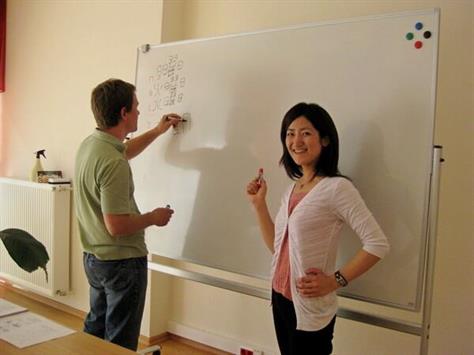 COST OF JAPANESE LANGUAGE COURSES
Classes with a native speaker teacher!
| | |
| --- | --- |
| Prices for Japanese language courses at the San Cultural Center 1 hour | 1 hour |
| Individual courses with a native speaker | 560 UAH |
| Skype lessons with a native speaker | 270 UAH  |
| Classes in a group with a teacher-native speaker (up to 4 people) | 350 UAH |
| Classes in a group with a teacher-native speaker (from 4 people) | 300 UAH |
| Individual consultation with a native speaker teacher (1 hour) | 560 UAH |
| Japanese Speaking club with native speakers (1.5 hours) | 100 UAH |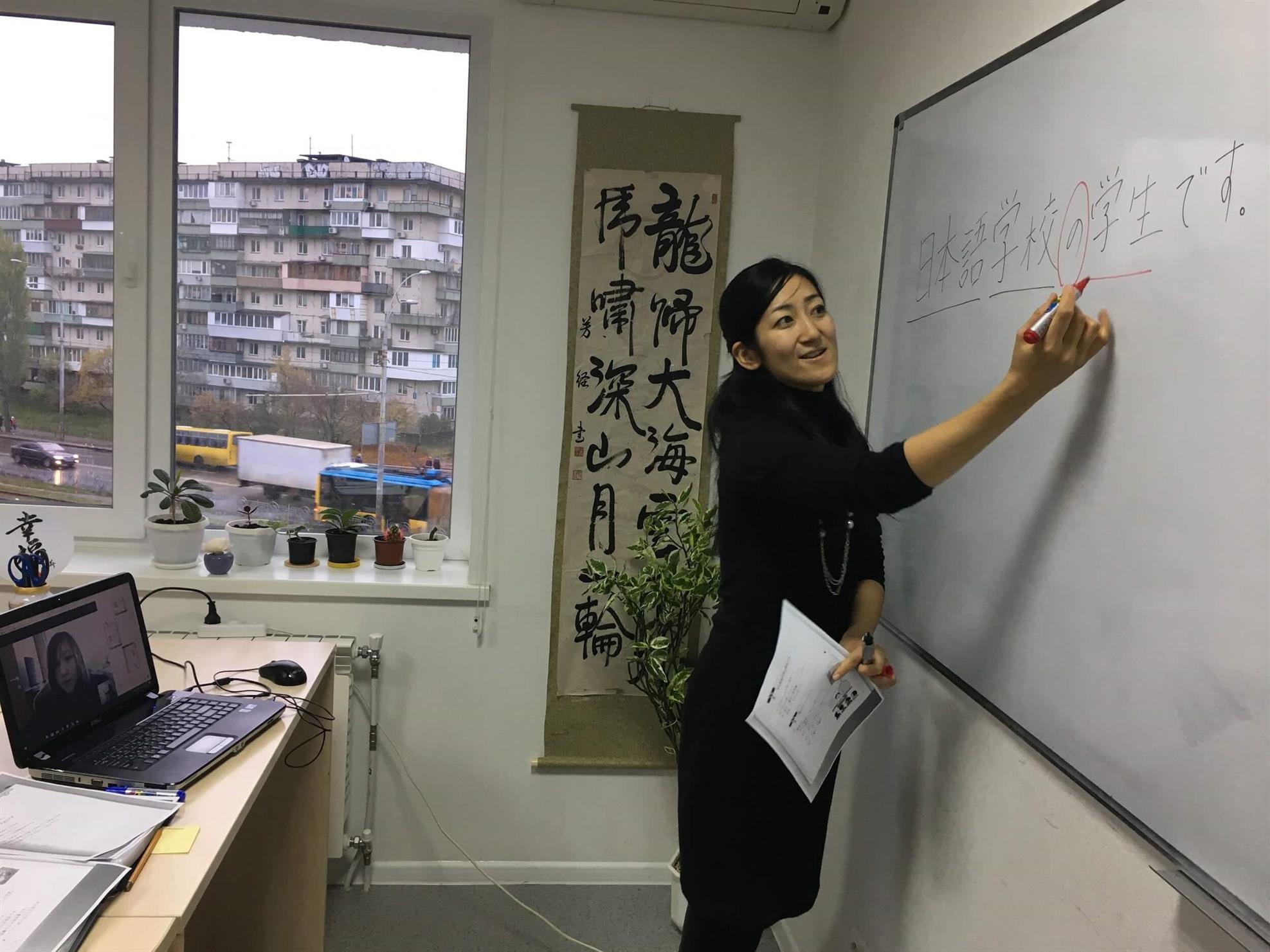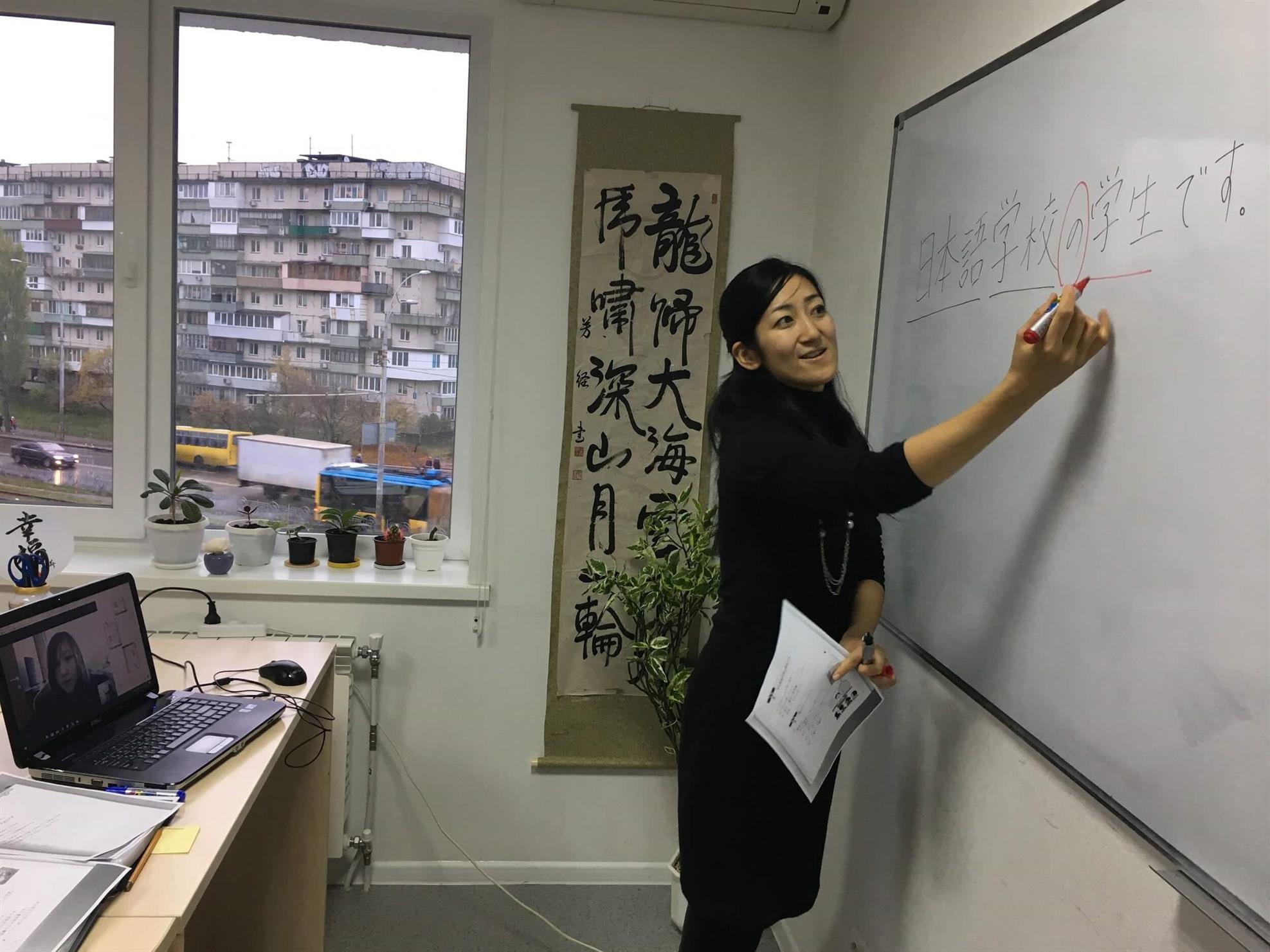 ONLINE JAPANESE LESSONS WITH Native speakers
Learn Japanese online, right from your phone or computer, at a time convenient for you!
Lessons are conducted via Skype, Viber, Line, Telegram, Kakaotalk, or any messenger convenient for you.
San Cultural Center has extensive experience in delivering online Japanese lessons. All our teachers are Japanese, native speakers. There are both Russian-speaking and English-speaking Japanese women. All materials for the lessons are in electronic format, the teacher will send you the materials before the lesson so that you have the opportunity to prepare in advance. In the East, there is such a thing as learning "in advance", so the teacher will send you the material in advance. This allows you to identify the issues in the material in advance, and, during the lesson, engage in "repetition" of the material. The quality of online lessons does not differ from the quality of offline lessons! Our teachers will not deliberately stretch the presentation of the material, but will work for the result, in accordance with your study goal, testing you, making an individual program for you and encouraging progress in learning in every possible way.
We also conduct classes and lessons in Japanese online, via Skype, Viber, cocoa, line, telegram, or other messengers and in other cities of Ukraine, such as: Vinnitsa, Lutsk, Dnipro, Donetsk, Zhitomir, Uzhgorod, Zaporozhye, Ivano- Frankivsk, Kiev, Kropyvnytskyi, Lviv, Nikolaev, Odessa, Poltava, Exactly, Sumy, Ternopil, Kharkov, Kherson, Khmelnitsky, Cherkassy, ​​Chernigov, Chernivtsi.
Phone number for contacting messengers: 
+38 (093) 813-39-83
The courses are taught using Japanese textbooks:

1. "文化"
2. Basic Kanji book
3. 中級へ行こう
7 years ago I started and continued to learn Japanese with "SAN" (we can already assume that they teach well). Now I only visit the spiking club, in which exchange students from Japan often participate, which helps to improve my conversational level.
SUN is taught mainly by native speakers, and in this it surpasses other language centers. The team is responsive and cheerful, will help you better understand the culture of Japan and answer your questions.
Eve
I am very glad that I started learning Japanese here! Taking courses has become an integral part of my daily life. The teachers are very responsive and pay attention to everyone. The lesson is always held with smiles and enthusiasm.
Here I get not only knowledge, here I found friends and met many interesting people. After the start of quarantine, courses continue online on an individual basis. Thanks to this, my Japanese studies continue.
Oksana
I studied Japanese first at school, then at the institute. She could not speak it - only read and translate. I fell into a stupor at every phone call from foreigners at my work. I went to the courses at the cultural center "SUN" on the advice of a friend, who said that I would speak there. And it worked! There is an amazing learning system - unlike anything else. I wish the cultural center "SUN" prosperity and thank you for your training!
Miroslava
I signed up for a Japanese language course. This was my second lesson. Individual lessons. Teacher Saori is very kind, good. He always explains everything in an accessible way. Courses always start on time without delays. Friends advised me to take these courses. And I am glad that I got here, I like everything.
Maksim